Cradle rack comes with wheels and easily moved around the house.

Stable and safe for baby

The oval shape of the sarong netting allows baby to feel as if he/ she is sleeping in mama's arm comfortably with the sense of warmth and security.

Baby sleeps in this special design pinholes sarong enjoy air ventilation from all direction. The natural breeze like cooling sensation allows baby to breath effortlessly thus reduce the risk of Sudden Death Syndrome (SIDS)

This computerized baby cradle helps baby sleep through with longer hours and cultivate brain/ physical growth and good health.

Reduce parents' stress. Babies are more erratic and unsettled from 3 weeks to 6 months old. Babies cry and fuss up to 6 hours at late nights causes frustrating sleepless nights and upsets tiring parents.

Well rested babies ease parents with peace of mind, increase their work productivity and improve psychological fitness.

User friendly - Simple & Complete Instruction

Perfect for day naps or night use.

Comes with wheels to roll around the house
Please use with adult supervision ONLY. Do NOT leave baby unattended. This is not intended to be used as a recreational toy.
Special Features of The Computerized Cradle Set
Safety
Professionally designed DC 12V Adaptor, ISO 9002 Quality Certified Spring, Computer Predetermined Speed Limit, Double Iron Bars, and Unique looking mechanism striving for Total Security Standards.

Reliable
Crash proof to prevent baby from crashing to the ground with patented magnetic coil mechanism pledge. Continuously 12 hours of non-stop operation without strenuous human attention.

Comfort
Simple, stable, gentle, rhythmic harmonic vertical motion consistently align with Earth Gravity Forces - Feel like calm sea waves, allows baby cruise into sweet dreams.

Mechanical Safety and Durability
Mechanical power provided by magneto motive forces - no wear and tear to non-contacting components and unlikely to fatigue. This is also the ONE & ONLY Computerized Baby Cradle mechanically powered by natural Electro Magnetic Energy. Product Warranty granted.

Computerized Baby Cradle Set** includes:
Computerized Hammock Complete Set Included -

Instruction

1 X Hammock Control Unit

1 X AC Adaptor DC 12V

2 X Spring Metal Plate

2 X ISO 9002 Quality Certified Spring

2 X U-Locks

1 X Center Rod

1 X 18" wide Sarong Hanger

1 X Nylon String

1 X Twist & Turn Wire

Cradle Stand Included

1 X Hammock Stand (Silver)

4 X Castor Wheels with stopper for Hammock Stand

Sarong Cradle Included

1 X Sarong Netting (Either Pink or Blue)

1 X Crossbar Cover (Pink or Blue)

Hammock Stand will come in Silver


Computerized Hammock Set


Baby/ Toddler Hammock with the set
** This set is complete with all accessories needed.
Specification of Computerized Baby Hammock & Hammock Stand:
Computerized Hammock Set:
Height 650 mm

Width 195 mm

Depth 118 mm
Hammock Stand Including Sarong Netting:
Height 2200 mm

Width 1065 mm

Depth 670 mm
Recommended Weight and Age Limit :
Newborn until when baby 36 months

Up to 36 lbs with 2 Springs, additional spring can be purchased to add up to 3 springs. With 3 springs, the weight limit is 52 lbs.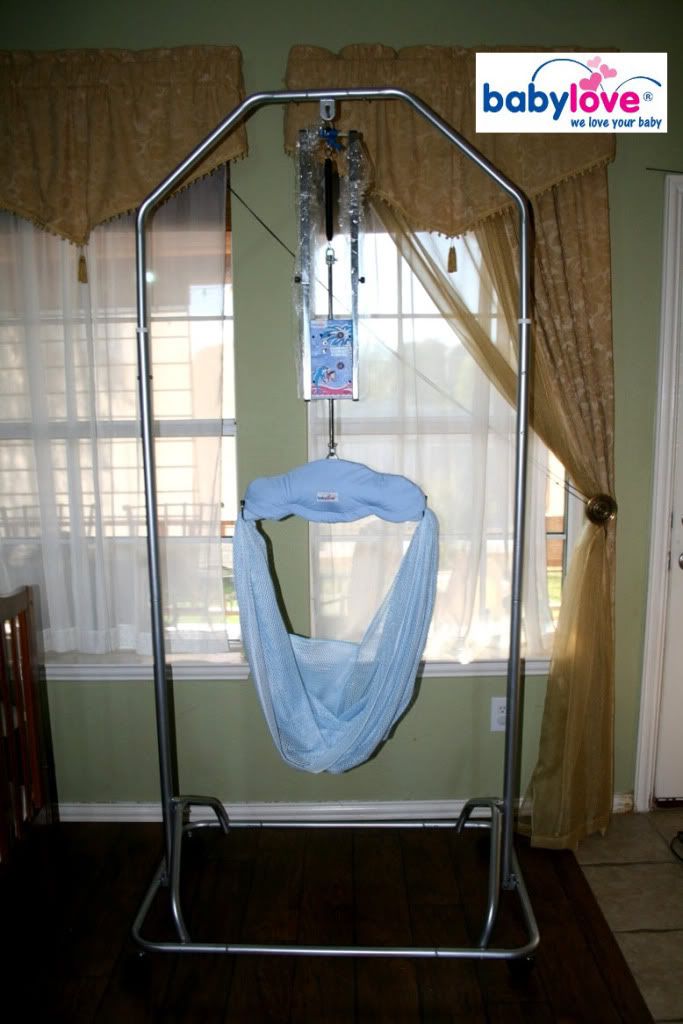 Computerized Baby Hammock comes with the Mesh Sarong Netting but DOES NOT come with a mattress
Check out how the computerized cradle works (Video shows with mattress but we no longer send them with mattress)

Please use with adult supervision. This is not intended to be used as a recreational toy.